Belgian national project

District heating meets thermal storage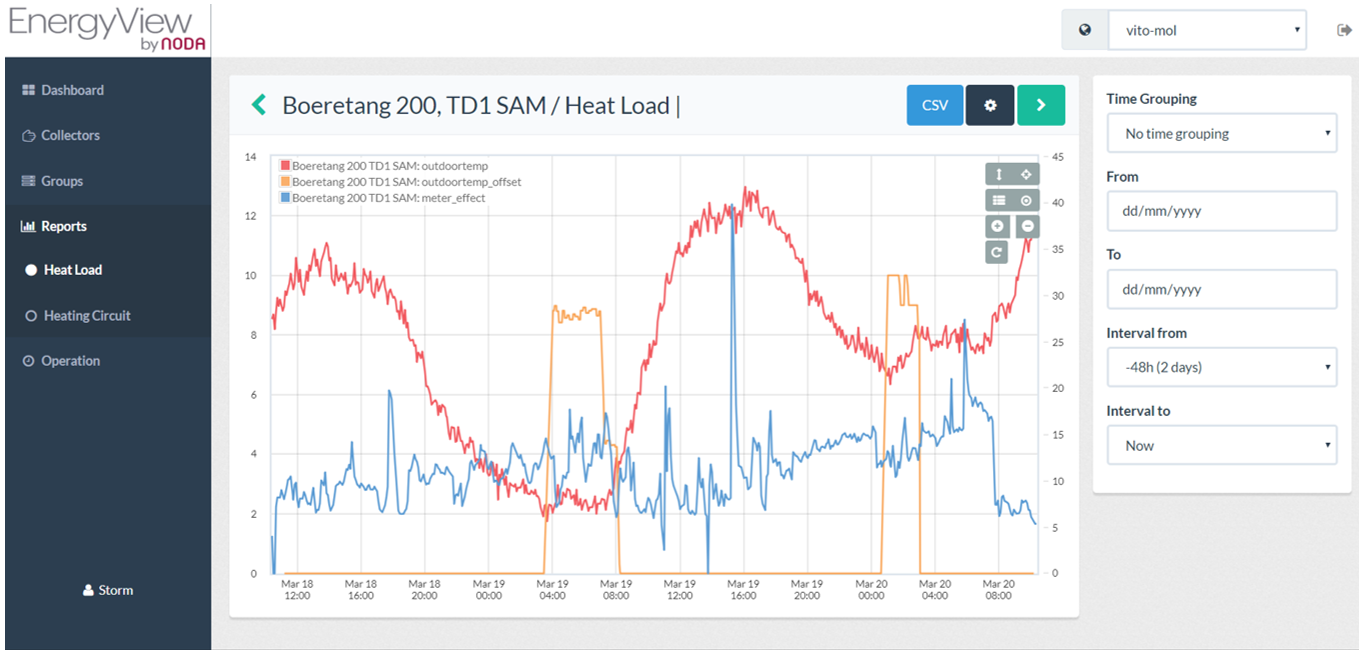 Concept
In 2015-2016, VITO drilled the first deep geothermal doublet in Flanders at the Balmatt site in Mol, to a depth of 3.6 and 3.8 km. These wells will supply heat to an existing district heating network, heating the campus of VITO and neighbouring companies. Additionally, unused heat from the wells - mainly in summer when the heat demand is low - will be used to produce electricity by means of an ORC installation. The first geothermal heat to the district heating system is delivered in the heating season 2018-2019.
The peak consumption of the existing heating network is almost 12 MW. According to the well tests however, the well will be able to produce a peak power of about 7 MW for the supply and return temperatures of the network. This means that about 186 hours per year, currently the gas fuelled peak boilers have to cover these peak demands. The district heating network is currently operating at high return temperatures of 75°C in winter conditions and 65°C in summer conditions, resulting in injection temperatures of about 80°C to 70°C. For proper utilisation of the geothermal well, these temperatures should be reduced.
The research question in HEATSTORE is to assess to what extend the power peaks can be reduced by the installation of a smart district heating network controller, which benefits it will bring for the network, and if and how this controller can be replicated in other geothermal networks. Also, it is investigated in which extend the return temperature of the district heating network can be reduced, and which benefits this brings to the network operation.
In the context of HEATSTORE, VITO will transform the existing DH network into a smart network by implementing a self-learning DHC network controller developed in the Horizon 2020 STORM project. After installation of the hardware, we will optimize and train the controller for conditions that are specific to geothermal DH. In addition, we will investigate the benefits of adding thermal storage options, including high temperature aquifer storage in fissured chalk deposits, high temperature storage at geothermal plant side, decentralised storage at building level, to the smart DH network. In a final step, the impact of demand side management and thermal storage on further extensions of the Balmatt geothermal DH network will be evaluated.
Technology Readiness Level advancement
Commercial Readiness Level:
Research & innovation highlights
Integration of a self-learning DHC network controller for a geothermal DH network.
Training of the DHC network controller.
Reduction of the return temperature.
Supply-demand balancing within the geothermal DH network through smart thermal storage.
Partners
Status updates
Currently the hardware for the smart controller is being installed in the buildings at the VITO site, data collection and monitoring is ongoing for the systems that are already online.